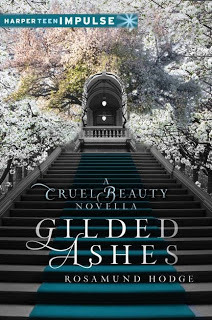 I've been mesmerized by the World created by Rosamund Hodge since listening to Cruel Beauty last summer. There is something enchanting and heartbreaking about the World ruled by the Dark Lord and his band of demons. "Gilded Ashes" returns readers, via short story, to this World through a sad re-telling of Cinderella.
"Gilded Ashes" is not a lighthearted tale. It's a dark and depressing lesson-filled story about family and the lengths one will go to make sure one's family is happy. I did enjoy it as it seemed much more straight forward than Cruel Beauty—not so many twists and turns. I was also more able to see the parallels, from start to finish, with Cinderella's story.
Being this is a short story it didn't take long to finish it as a good portion of the book is a preview for Cruel Beauty. Besides existing in the same world as Cruel Beauty there's not a direction connect to the novel. Hodge does spend some time explaining the Dark Lord and the rules for his deals so it is not necessary to have read Cruel Beauty to understand "Gilded Ashes." If someone was unsure about Cruel Beauty or is a fan of that universe, I would definitely recommend reading this short story. "Gilded Ashes" by Rosamund Hodge receives a thumbs up.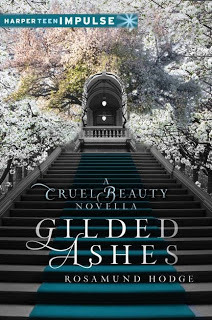 The Quick Review
Gilded Ashes: A Cruel Beauty Novella
Author: Rosamund Hodge
Published on: April 1st 2014
Pages: 111
Series: Cruel Beauty Universe #1.5
Genres: anthologies and short stories, fairy tales & folklore, fantasy, romance, young adult
Goodreads • Amazon Affiliate Link
My Rating: Thumbs Up
Also in this series: Cruel Beauty



Original Purchase Date: July 7, 2014
Finally Read: 6 months after purchase