"What do you seek in these shelves?" Ajax Penumbra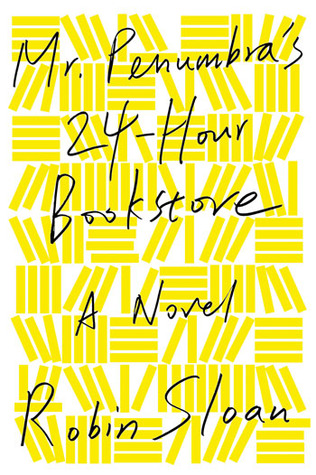 My first thoughts after finishing, "I want Mr. Penumbra's Bookstore to be real."
This book had been languishing on my shelves for awhile. We purchased it during a buy 2, get 1 free paperback deal at Barnes and Noble. We had two books, needed a third when my husband grabbed "Mr. Penumbra" off the table and said, "This sounds like one you would read."
I took the opportunity to listen to the audiobook (thanks to my library) and finish it by reading the physical copy I owned. On my Friday commute, I left the book at somewhat of a cliffhanger and just felt I couldn't wait until Monday to finish it.
The book is about one recent college grad's quest for purpose and meaning in his life. He finds it in Mr. Penumbra's Bookstore in the most unconventional way. As a person who has often wondered what my purpose is in life, I enjoyed Clay's journey. The story was full of geek and bookish references that had me reading passages out loud to my husband and marking up my physical copy with post-it flags.
"Penumbra sells used books, and they are in such excellent condition that they might as well be new. He buys them during the day—you can only sell to the man with his name on the windows—and he must be a tough customer. He doesn't seem to pay much attention to the bestseller lists. His inventory is eclectic; there's no evidence of pattern or purpose, other than, I suppose, his own personal taste. So, no teenage wizards or vampire police here." Clay Jannon
The narration of the audiobook was well done. Ari Fliakos had different voices for all the crazy characters Clay encounters. He captured Clay's internal monologues in a way that was reminiscent of J.D. from Scrubs. Ari's voice brought Sloan's words to life and made the Bookstore and its frequent visitors real for the few short weeks I was listening to the novel.
"I've never listened to an audiobook before, I have to say, it's a totally different experience. When you read a book, the story definitely happens inside your head. When you listen, it seems to happen in a little cloud all around it, like a fuzzy knit cap pulled down over your eyes…" Clay Jannon
If you are a book lover, a seeker of the meaning of life or a fan of mysteries, Mr. Penumbra's 24-Hour Bookstore should be on your to-read list. It's a lighthearted mystery about friendships and the quest of immortality.
The Quick Review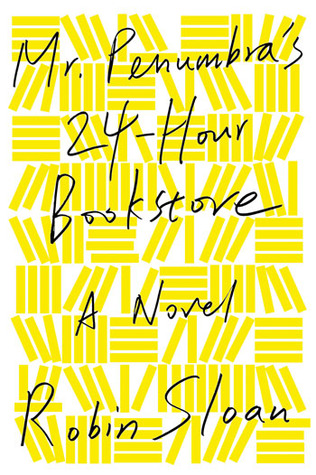 Mr. Penumbra's 24-Hour Bookstore
Published on: October 2013
Pages: 288
Length: 7 hours, 30 minutes
Genres: action & adventure, adult, audiobook, mystery
Goodreads • Amazon Affiliate Link
My Rating: Thumbs Up