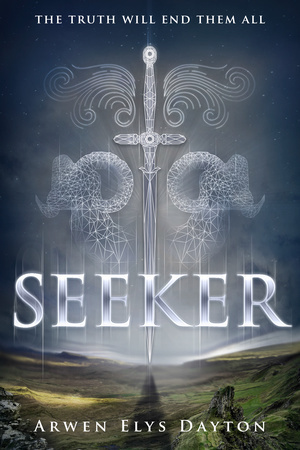 I wrestled with Seeker. I fell in love with the cover and the general description from the minute the email from NetGalley hit my inbox. And then I saw reviews coming in and the fear started to creep in and then the dread. Most of the reviews I read were not positive, but I was determined to start Seeker with an open mind. Many times I love books that others do not. Heck, after a time even Gone Girl grew on me. So there was a chance that Seeker wasn't all that bad, right?
Seeker wasn't exactly bad. The book is written well. The Scottish property Quin, Shinobu, and John lived on came alive for me. The weapons they used—the whip sword and disruptor—were amazing weapons that instilled fear and wonder in me. The Dreads had me mystified by their inaction, but I wanted to figure them out. By the end of the book, I figured that the Seekers were a League of Assassins that started with good intentions and then somehow were lead astray as the centuries went on. But I still struggled.
"Great minds are not what's wanted. Only good hearts. Good hearts choose wisely."
—the Old Dread
And here's where I struggled. Time. When does this book take place? Obviously the athames offered the ability to move through time and space. The whip sword and disruptor seem advanced, but it appeared Quin and her family were roughing it in the Scottish highlands. I almost thought it was like the 1700s or thereabouts, and then an airship arrived. Fast forward to London and it seems pretty up and coming technology-wise. Fast forward again to Hong Kong and it seems even more advanced than London and ages ahead of Scotland. The book is out of time and place. This left me feeling disoriented not being able to pin down a time and knowing a bit of what to expect from the people, the place or the technology.
Four different points of view. Now each character did have a unique voice, but I'm not sure the different voices were needed because they all know about the same amount about their predicament which amounts to NOTHING. No one added knowledge to the plot. They all just dumped their confusion out and it just sat there going no where. No one was working together. And at the end, all the jumping caused a lot of actions to be rehashed as characters encountered each other. See the end of Chapter 46 (Quin's POV) and the start of Chapter 47 (John's POV). When this would happen all I could think was, "Get on with it! I've read this already!"
I think Seeker had the potential to be a good book. The basic premise of a secret society controlling events throughout time and space and the corruption within is compelling. I'm just not sure it was executed properly. The lack of time and place and a group of characters who know nothing about the nature of the society accompanied with a group of angry adults not willing to share even a shred of history about the organization leads to a major, bloated disappointment in the end. Seeker receives a thumbs down.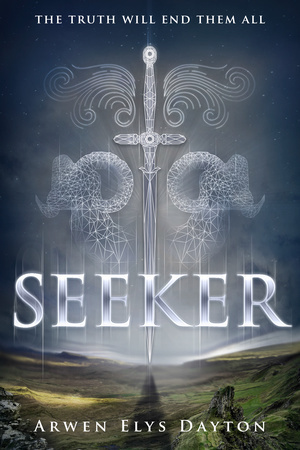 The Quick Review
Seeker
Author: Arwen Elys Dayton
Published on: February 10, 2015
Pages: 448
Series: Seeker #1
Genres: fantasy, mystery, romance, time travel, young adult
Goodreads • Amazon Affiliate Link
My Rating: Thumbs Down


 

I received this book for free in exchange for an honest review. This does not affect my opinion of the book or the content of my review.

BEWARE!

Love Triangle Alert.