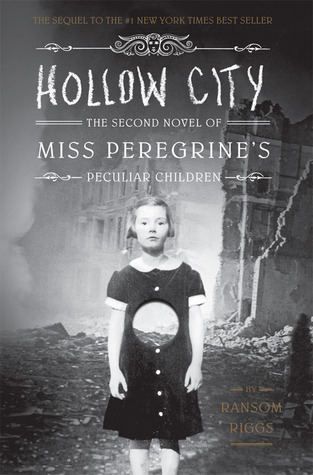 The Miss Peregrine series by Ransom Riggs is one of my favorite series. It combines several things that I am dearly fond of.
A compelling historical fiction plot with endearing protagonists and creepy antagonists.
The physical book is a beauty to behold and is a good weight (not too heavy and not too light). It's well constructed with amazingly odd photographs, detailed end papers with a design that repeats itself at chapter and part breaks.
Without the dust cover, the book appears to be an old classic with its silver inlaid title and decorations. And when placed side by side with book one is the series, it creates a lovely symmetrical tableau on my bookshelf.
The second book in the Miss Peregrine's Peculiar Children series, Hollow City isn't nearly as creepy as book one and it has a faster pace. Hollow City picks up right where book one left off and doesn't let up till the end. Which for some empathetic readers, like myself, can be a tad overwhelming.
There is great character development for Emma and Jacob as they grow to know themselves and each other through the perils they face with the other Peculiars. Young love is always so heartwarming and Riggs approaches their relationship with care. Their love for each other is real, hard to deny and surprising in all the gloom.
"I felt it too: the dread, the weight of the horrors we'd seen, which replayed themselves in an endless, lurid loop in my mind. But you can't feel bad every second, I wanted to tell her. Laughing doesn't make the bad things worse any more than crying makes them better. It doesn't mean you don't care, or that you've forgotten. It just means you're human."
The only downside was the pacing. I love fast-paced action and adventure, but you can go too fast. So many horrible things continue to happen to the Peculiars one right after the other that I was as emotionally drained as the they were by the end of the book. There is no winning. Even the one bright moment early in the book is marred by the constant fear of being discovered and not really knowing who to trust. I wished there was more down time (not necessarily happy times) to give me and the characters a bit more time to rest and recover. I could not put this book down, but it was more of the lack of a clean break in the plot than it was a "OMG! What's going to happen next?!".
I can't wait to see where Riggs takes the Peculiars next. The end reveal and Jacob's final decision came as a surprise and was deftly handled. Book three, according to GoodReads, is expected to release yet in 2015. So perhaps I won't have to wait long to find out how this strange story with its odd photographs will conclude.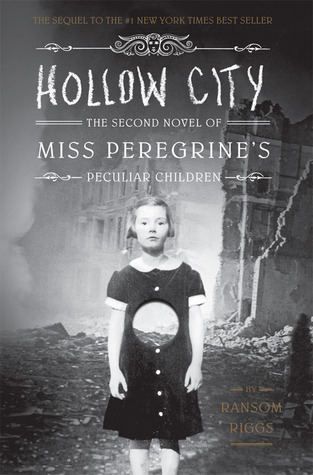 The Quick Review
Hollow City
Author: Ransom Riggs
Published on: January 14, 2014
Pages: 400
Series: Miss Peregrine's Peculiar Children #2
Genres: action & adventure, fairy tales & folklore, fantasy, thrillers, young adult
Goodreads • Amazon Affiliate Link
My Rating: Thumbs Up


book review hollow city ransom riggs