Today I'm excited to have author Tara Tolly in the spotlight at Second Run Reviews. I met Tara just under a year ago at ICON 39. We bonded immediately when I handed her my business card with the reading suggestion of Outlander. It turns out that we share mutual affection for on James Alexander Malcolm Mackenzie Fraser. So without further ado, here's fellow "sassenach", Tara Tolly.
In the Spotlight Tara Tolly
Welcome to Second Run Reviews, Tara! Thank you for being In the Spotlight. I appreciate you stopping by and answering a few questions. So let's get things started
In a tweet (140 characters or less), tell us a bit about yourself.
I am a wife, mother, teacher and lover of the written word.
A teacher! So you are just getting back into the swing of things for the new school year. Good luck!
So how do you do it? A full-time teacher, a mom and a wife—how do you balance everything and still find time to write? What's your secret? Are you Wonder Woman?
I am one of those uber efficient people who uses every little available moment. I hate to be idle so I tend to keep myself pretty busy. In fact, the busier I am, the more I get accomplished. Hence, the birth of First Sun.
I am officially impressed. It seems the busier I am, the more I fall apart!
I know that we share a common love for one James Alexander Malcom Mackenzie Fraser. He's the almost perfect book boyfriend. What makes the perfect character? What personality traits does a character need to have to be real? Do you have any other book boyfriends or girlfriends?
Characterization is key to a good book. One can have the freshest, most interesting idea for a premise and even impeccable writing skills, but without proper characterization the reader would find it difficult to connect to the book.
I aim to make my characters relatable and realistic. Humans have flaws, so book characters should too. While James Alexander Malcolm Mackenzie Fraser is high up on my book boyfriend list, Andrew Wellington (the love interest in my book, First Sun) is my ultimate book boyfriend (at least the book boyfriend for the high school me). He is honestly everything I think would make a good boyfriend, yet he's not perfect; perfection is unrelatable and unrealistic. A book boyfriend needs to combine reality with fantasy.
If you look at all of the most popular book boyfriends in bestselling books—Jamie Fraser: a tall, gorgeous, red-headed Scot, Edward Cullen: a beautiful supernatural vampire and yes, even Christian Grey: a handsome, albeit damaged, billionaire…they all fulfill a fantasy. That's exactly what Andrew does in First Sun. He fulfills the fantasy of the gorgeous president's son falling in love with an average girl, launching her into the world of the rich and famous. Reality + fantasy = a book boyfriend.
Perfect summation. And I definitely see that Jamie fits the bill. He's perfect, but has his flaws which are bared at several points throughout all 8 Outlander novels. He seems even more real now that there is a tv show!
Second Run Reviews: Side question…If ICON 40 programming let's us, are you still up for doing a panel about book boyfriends and girlfriends?
Tara: YES! Let's do it!
Second Run Reviews: Excellent! I have seen a preview of the ICON 40 schedule and this is currently still on the docket.
What was the most difficult thing about getting published? What was the easiest? If you had to go back and do it all over again, is there any aspect of your novel or getting published that you'd change?
The easiest part of the publication process was writing the book. People are always surprised when I tell them this, but it is so true. I never anticipated the emotional ups and downs I would experience throughout this journey. All authors go through a fantasy period in which they just know their debut book will get signed with one of the Big 6 publishers after a bidding war, it will soar to the top of the New York Times Bestselling List, the movie rights will get sold for millions of dollars and they'll be able to quit their day jobs and write full time. And then reality hits. Sure there are Cinderella stories, but almost all authors have to pay their dues just like in any other profession.
One of the trickiest parts of getting published was finding an agent. I actually consider this a bigger fete than getting published. It is not easy to find an agent. After sending unsolicited query after query to no avail I finally decided to attend The Writer's Institute in Madison Wisconsin. This writer's conference allows you to sit with agents face-to-face and pitch your book. Once you're able to make a personal connection with an agent AND he/she likes your pitch you're one step closer to landing an agent. I had great luck with the agents at the conference I attended and ended up signing with the fabulous Tina Schwartz of The Purcell Agency. She has been amazing and I know she will do everything she can to help me sell future novels.
As for if there is anything about my book that I'd change…heck yeah! Every time I read it I find a word or phrase I would change if I could—not because I don't think it's good enough, but because nothing is ever perfect. I would be shocked if any author ever said there is not one little thing they would change post-publication. I also had to cut, cut, cut in the revision process. The original first draft of FIRST SUN had 133,000 words, but the published version has only 96,000 words. Many scenes that ended up on the chopping block are scenes I would have loved to see in the final product. Every time I had to cut something it felt like I was chopping off a finger here, an arm there…there goes an ear. Trust me—it hurts just as badly. Don't get me wrong, the cuts made the book a stronger product, but there are definitely parts I would love people to know. Perhaps when I'm rich and famous I could publish the unabridged long version.
Wow. That got really long. Weird how I had to cut 37,000 words from my book.
And then you have pesky reviewers like me point out things that they wished would have been stronger and your editor made you cut stuff out! I did enjoy First Sun. I will admit I'm a tough critic when it comes to "who-dun-it" reveals.
What type(s) of books do you enjoy reading most and what three books to you find yourself recommending to your fans over and over?
I am a super eclectic reader. I read anything and everything. I'm not discriminatory. Some of my favorite topics/genres are time travel, survival situations, historical fiction, realistic science fiction and "What if?" scenarios. I'm really not into hardcore fantasy, memoirs or nonfiction texts (with the exception of children's nonfiction – I am a 4th grade teacher after all). Oops. Maybe I am a little discriminatory.
Three books I find myself recommending to my fans/friends over and over:
The Royal We (this is a new favorite and anyone who liked my book will love this one)
Outlander series
The Selection series
Survival situations? Have you read Ashfall by Mike Mullin? If you have not read that one, do! Super volcano, teenagers, IOWA! It will blow your mind…I hope. It is so good!
What's your current obsession? Any secret obsessions you want to share?
My pool! I finally talked my husband into getting a pool last summer and I am obsessed with it. If it's at least 78 degrees and sunny that's where you'll find me. The good news is I used to think the only way my stories would come to me is when I'm running, but now I've found that they also come to me when I'm floating in my pool. So really floating in my pool can be considered work, right?
I'm also a big fan of cake. I like cake a whole lot.
So if I surprise you cake or cupcakes, will you tell me what you plan do with Eden and Andrew in book two? 🙂
Any last thoughts or wise words you want to pass along?
Stay tuned…I'm just about finished with my next book!
Oooo…so mysterious. I hope to get a sneak peek of that soon! Maybe at a reading during ICON 40 in October. I'll bring cake!
Thank you so much for dropping by Tara. I hope my fans will check out First Sun. It's a wonderful science fiction with heart.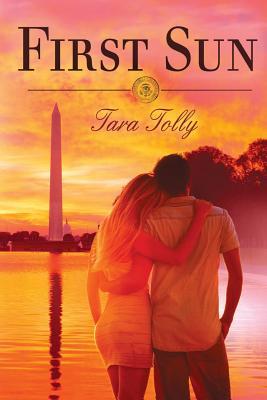 The Overview
Synopsis: When the bad boy son of the United States president sets his sights on Eden Warren, she is not impressed. The first son is dubbed "First Disaster" by the public for his questionable antics and Eden has no intention of becoming his latest conquest. What could this former playboy do to convince Eden that he has truly changed his ways, especially when she discovers he's hiding a government-protected secret that could permanently alter the course of life on Earth?
From My Review: First Sun is Tara Tolly's debut novel and it is impressive. It is a young adult romance novel with a side of science fiction. For those readers who enjoy stories about falling in love and the sacrifices that go along with finding true love, First Sun is definitely a novel the deserves your attention. Read more.
[postmatic_subscribe_widget]
author interview tara tolly