Today I'm excited to welcome Michael Koogler to In the Spotlight here at Second Run Reviews. Michael is one of the authors responsible for introducing me to Dennis Green and a whole host of other local authors that have been featured In the Spotlight this year. I'm honored that Michael let me read his recent release, Antivirus this summer. The review posted earlier this week and I encourage you to check it out. It's the kind of book that sticks with you and will make you second guess your computer.
In the Spotlight Michael Koogler
Welcome to Second Run Reviews, Michael! Thank you for being In the Spotlight. I appreciate you stopping by and answering a few questions. So let's get things started.
In a tweet (140 characters or less), tell us a bit about yourself.
"Just a city boy. Born and raised in South Detroit. I took the midnight train…" Well, not really. I write fiction. See what I did there?
*sings* "Goin' anywhere…."
You, me, karaoke, ICON 40. Sound good?
Your first novel, Hade's Gambit, was co-written with two other authors and I know you are currently working on sequels. What is the collaboration process like and how does it differ from working on your own?
I am fond of telling people that I wouldn't trade the experience of co-writing a novel for anything. That said, after we have completed our journey together creating the story that is the Seals of Krypteia, I'll never do it again.
Well, probably not, anyway. One should never say 'never.'
Collaborating is a process of patience and compromise. When you are writing your own stuff, you are your own boss. Sure, you can have people alpha and beta-read parts of your story and bounce ideas off of them, but ultimately, you're making the final decisions across the board about what you are creating. There's an inherent feeling of empowerment there, as well as self-achievement.
When you are co-writing a book, that whole dynamic changes every aspect of the writing process, start to finish. You are sharing ideas, formulating the story, writing, editing, finalizing…and you're doing it all together. Not only is it much slower, but it requires a certain amount of patience in your co-writers. You have to understand that they are not you; they are different. They have different ideas, write in different styles, approach things with different urgency and rationale, and dream differently than you do. Getting that to mesh with another author can be difficult.
We did it with three of us.
And it tested us, too. Still does at times. All three of us are pretty close friends, but Jed is like a brother to me. I'd take a bullet for him without hesitation. But during the editing processes, he and I went to war. Twice. It wasn't just an argument or little flare-up of tempers. We were both to the point of "Hey, this is it! I'm done with writing a novel together! I don't care anymore!" It was pretty intense at times, with Jaren stuck in the middle, playing the peacekeeper.
We can laugh about it now, but ultimately, we got through it and learned a lot from it. I think our journey together, including those difficult times, made us better writers and made us better people, too.
Difficulties aside, there are a lot of positive things about co-writing. I can't tell you how many great round-robin sessions we had when working through ideas and possible story concepts. We called it "What If" sessions. In these brain-storming sessions, we would throw out completely off-the-wall questions and then play ball from there. And in at least one of those cases, it resulted in what in my opinion, turned out to be one of the strongest points of the early storyline.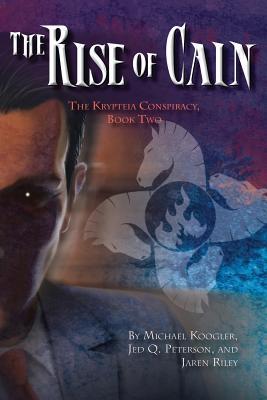 Without giving too much away, I'll explain that session like this. One of my co-authors jokingly said "What if we kill 'X'?", meaning a certain important character in the story, who we had originally planned to survive for the entire series. My other co-author immediately said "No way! We can't do that!" But I said, "Now wait a minute, what if we actually did do that?" And from there was born an incredible story arc that we developed and honed together and will be one of the main themes throughout the entire series. That's something that you simply don't get when you are the sole creator of the story.
So, there's good and bad to co-writing. It's a process that taught me a lot and that I "mostly" enjoy. The Seals of Krypteia is fairly epic in its scope of the last days and having three of us doing it has brought forth a better story than just one of us could have done with it. But it's tough, too, and requires you to really give a lot of yourself not only to complete it, but to make it a successful story.
Wow! At least you got to pick the writers you were working with. I'm having flashbacks to groups in high school where I was stuck with the kids who sat back and let me do all the work.
I know you currently work a full-time job. How do you find balance between writing and working full time?
That's kind of the million-dollar question for authors anymore. Few authors today make Stephen King-type money. Many of us are working, punching a time clock somewhere, hoping for the day when we can pursue our craft full-time and dreaming about attending red-carpet premieres when our work is made into a blockbuster movie.
For me, right now, it's more a factor of who I am. My brain generally doesn't stop; I get bored way too quickly if I try to shut down. I try to balance a full-time HR job with raising a blended family of seven children with my wonderful wife. Add in writing and promoting my author career and making time for my wife and kids, as well as myself to exercise or just get into a good movie or video game, and it makes for a busy life. Fitting writing in is really just a matter of "hey, I have 5 minutes between tasks, let me write something." I also keep a notebook handy and sometimes take a few seconds to just scribble down an idea that pops into my head while I'm working. It's pretty common for me to be working, while part of my brain is mulling over a story arc or idea.
When it comes to cranking out the actual story, I usually try to get my writing in over lunch or in the evenings after things have settled down for the night. Occasionally, I'll have a good stretch during a weekend where I can just sit down, fire up some music, and just go to town on a story for several hours. Those are the times where I can put 4 or 5 thousand words down.
So for the time being, it is what it is – a balancing act. In 5 years, we'll be empty nesters. And I've only got another 15 years or so in the work force before retirement age stands before me in all its glory. If I haven't found a way to write full-time by that moment, I can guarantee you that retiring from the corporate world will fully fire up my full-time writing career, something I intend to do for as long as I'm physically able. If the good Lord sees fit to bless with 20 or 30 more lucid years after I retire from corporate life, I imagine I can get a lot more novels written in that time. I certainly have a lot of stories I want to tell.
I've found, with blogging, that a schedule is important. I need to get better about writing down post ideas. Why do they always seem to come when I'm driving to work and listening to a book? Driving down the freeway makes it darn difficult to keep those ideas until I get to work!
Please tell a bit about your journey to becoming a published author. What's been the best things about it and the worst?
The journey itself actually began back in high school when my English teacher gave us an assignment to write something unique. I ended up writing a 3-page nonsense poem called "The Ballad of Ol' Jeff Crud" (which can actually be read on my website!) that she found hilarious. I got a decent grade (she loved it, but critiqued the heck out of it), and she gave me a bit of advice afterward. She said "whatever you do in life, write. Whether it's personal or professional, never stop writing." In hindsight, I sometimes wonder if she meant I was talented or that I had a long way to go to become talented.
I chose to believe the former and for the next 30 years, I did so, on and off. It was mostly for my own enjoyment, although I did write a number of articles for transportation industry magazines and periodicals. But I never got any of the fun stuff published until 2012. And actually, that just kind of fell into my lap one day.
We had been writing and rewriting Hade's Gambit for nearly 10 years and during that time, I had sent out some queries on a couple of solo projects – pre-'Convergence' drafts and a horror story about giant spiders, which would make a great Sci-Fy channel movie. Standard slush-pile stuff and you know how successful that usually is. Getting on with a major publisher as a new author is kind of like "trying to hit a bullet with a smaller bullet while wearing a blindfold and riding a horse." Thank you, Simon Pegg, for that awesome quote.
At that point in my hoped-for writing career, I had been feeling kind of pressed to get Hade's Gambit done and out there to the masses. And I was thinking the best way to do that as new writers AND with a co-written novel, would be to go the self-publishing route. Just so happens that where I was working at that time, my boss knew someone that had started a small press. He encouraged me to call her and talk shop, to really pick her brain on how best to self-publish. So, I did and we spoke for nearly an hour that first time. The conversation went from me asking her publishing questions to her asking to see the script. At about 90% done, I agreed and sent it to her to review. She called me back 48 hours later and said "I'm 100 pages into this thing and I love it. I'd love to take this on as a project!" That began our relationship with Karen Matibe and Mbedzi Publishing.
We ultimately published Hade's Gambit and then Rise of Cain with Mbedzi and I had a couple of short stories in Sadistic Shorts, a horror anthology they published in 2013. But all good things come to an end and late last year, Mbedzi made a business decision to move more toward publishing non-fiction. At that point, I had Convergence completed with a verbal agreement to publish through Mbedzi. Even with the business realignment, she agreed to still do it, too. But understanding that with the change, that would make things awkward and potentially difficult for both parties, I decided to give self-publishing a try. With loads of help from Karen, I published Antivirus as my first self-published novel, followed by Convergence and then Kingmaker, all of them this year, with several more in the on-deck circle.
So at this point in my career, I've had a mix of both traditional and self-publishing. I enjoyed having the guidance and structure of a small press. But I have to admit, I love the absolute freedom of self-publishing. I work a lot harder at it, because I do everything myself. I have a graphical design background, so I do my own cover art. The only thing I shop out is the editing, because I know the value of a great editor and I have a good one.
The greatest and worst thing about being a published author is actually one and the same. Being published, seeing your work out there available to anyone that wants to read it, is the greatest thing about being a published author. You can literally say "I did it!" But it's also the worst thing, because now you're asking yourself, will people read it? Will they like it? Will Hollywood call me with an 8-digit contract offer? These questions are just haunting!
You know, I could see Antivirus being a movie. If I was a movie exec, I would release the move right about now. Just in time for Halloween. I won't be seeing it. The book was creepy enough for me!
What types of books do you enjoy reading the most?
I am an avid reader of all things fiction, although I have a particular love for fantasy and sci-fi. I also enjoy horror, but I'm a little pickier about that. I don't like hack and slash horror, bloody for the sake of being bloody; I like to be scared and creeped out. And apocalyptic stories are almost always golden for me.
I have some favorite mainstream authors: Stephen King, Robert McCammon, R. A. Salvatore, Jim Butcher. But I like reading small press and self-published authors, too. I have found some true gems out there that I wouldn't necessarily find by browsing through my local bookstore.
I've read a bit of Stephen King (just The Green Mile and 11/22/63. I'm familiar with the other authors, but can't say that I've read anything by them. I've heard good things about Butcher's Dresden series.
Any last thoughts or wise words you want to pass along?
A lot of it depends on who this interview reaches. If it's a Hollywood agent ready to offer me a huge deal for Antivirus as the next Ryan Reynolds action flick, my cell phone is…
No, in all honestly, I appreciate the time people are taking to learn a little more about me. As I said, I write because I love to do it. It's definitely my passion to tell stories. And as a story-teller, I hope those stories reach the ears of people that find them entertaining.
If I am speaking to any budding authors wanting to break into the industry, my advice is simple. Do it because you love it. If you write something that you love and enjoy, you're already a success. The rest is just icing on the cake.
Well, I can only hope that a Hollywood agent (or two) reads Second Run Reviews. If he or she happens to reach out to me asking for your contact information, I take it I'm free to pass it along. 🙂
Thank you for being in the spotlight, Michael. I hope you'll return next year when your next batch of books release. Good luck in all your future writing and I hope Hollywood calls soon!
The Overview
Synopsis: Homeland Security Agent Rick Alders lives a relatively peaceful life in his home town of Helena, Montana. His idyllic existence is shattered when a top-secret government black ops project known only as The Horde, is activated during the presentation of a breakthrough technology that would bridge the gap between our reality and the unknown of cyberspace. As Agent Alders plunges deeper into a nightmare he never could have imagined, he finds himself pitted against a malevolent intelligence with a single purpose – the annihilation of the human race.
From My Review: Antivirus by Michael Koogler is a science fiction thriller with a twist of gruesome. It kept my mind engaged and my skin crawling until the end. This novel was a bit outside my normal genres—a bit more on the hardcore science fiction side than I tend to read.
There are compelling characters throughout Antivirus…
Read more.
The Overview
Synopsis: A God Killer is crowned…
Vendetta is a Vi'Raaji assassin who has known only deception and death. When she accepts a deadly contract that will elevate her to the legendary status of 'God Killer', she unknowingly sets into motion a carefully orchestrated series of events that will ultimately bring about an apocalyptic convergence of worlds and realities that no one will survive.
As her world is plunged into a supernatural war of catastrophic implications, an unlikely group of heroes comes together in a last desperate alliance to fight an enemy far beyond anything they can imagine. As the darkness spreads and hope dwindles, Vendetta finds herself questioning her place in the conflict and ultimately, everything she ever was.
[postmatic_subscribe_widget]
author interview michael koogler