Inspiration and the Creative Pen
by J.M. Shorney
So much inspires my writing. A small column in a Sunday newspaper inspired an entire book; the wife of a Greek restaurant owner had an affair. The woman's husband was so infuriated by this that he ordered someone to throw acid into the man's face. Although he had had several operations, he remained disfigured. Naturally I created new characters and a story that saw a young musician hired to play in a seedy nightclub, owned by a gangster. When the young man falls for the gangster's girlfriend, the gangster hires someone to throw acid in the musician's face.
Watching a documentary on street gangs recently was the inspiration for my latest novel Promise Her Anything in which a street gang kidnaps an MP's wife. The whole street gang culture holds quite a fascination for me as a writer.
My fascination also encapsulates Highgate Cemetery. There is something infinitely vampiric surrounding this old Victorian cemetery, which I've featured it in two of my novels All Of them Vampires! and Night Of All Evil. In Night Of All Evil, a coven of witches gather there in order to resurrect their dead leader on All Hallows Eve.
I find a powerful fascination in art, particularly the work of the Pre-Raphaelite Brotherhood: Rossetti. Holman Hunt. Millais. The molten lava redheads of these portraits feature a lot in my work. Several of my heroines are described as having red/gold locks curling like vines about a trellis, or gypsy dark eyes and flowing black hair.
As Rossetti himself was purported to have stated, everyone needs a muse, a face to inspire them. For me it has got to be the Irish actor, Aidan Turner (Poldark. The Hobbit. Being Human). Aidan Turner is both the face and the inspiration behind the Aidan McRaney Trilogy, a series of gangland and terrorism thrillers.
Perhaps I'm attracted to the darker side of life, which shows itself in my books. Witchcraft, satanism, terrorism and murder. They all hold both a fascination and inspiration for me. For Progeny Of A Killer I traveled to what I feel to be is the most inspirational country in the world, Ireland. I visited Kilmainham Gaol where the rebels were incarcerated, then executed after the 1916 Uprising in Dublin. The tragedy engendered by their struggle is steeped in the very walls of that prison. It is this which I have captured in my novel, which tells of a man's own embittered struggle to avenge the death of his IRA father. Although he does exact his revenge with rather unsavoury methods. Inspiration has been the springboard for my writing, even at an early age when I wrote my first short story. At eight years old the dark side attracted me. I wrote a story with shades of Poe, when an avaricious nephew murders his wealthy uncle then buries him under the floorboards. Alerted by the smell the neighbours contact the police.
Inspiration and love for the art keep me writing. I mentally write waiting in queues. Sometimes I can work out an entire novel waiting in a queue. I often wonder if Tolstoy worked out the entire draft to War and Peace waiting in a queue. I enjoy writing. Creating characters is my favourite part. For me, the only hurdle however as a self published writer is marketing. With the self publishing explosion, standing out amidst the crowd is like searching for half a needle in a giant haystack, but inspiration and love for my art will, I hope, never cease.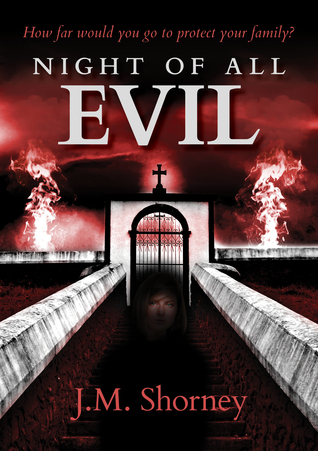 The Overview
How far would you go to protect your family?
Turning your back on the past doesn't mean the Past has turned its back on you…
Freya Monroe used to be part of a circle that engaged in the occult, but has turned her back on it. However the circle are determined to bring her back into the fold, to use her powers for their means, including resurrecting their leader from the dead.
The group will stop at nothing to achieve their aims and Freya must call on all her resources to resist the power of evil. But will it be enough?
A tense tale of gothic horror – not for the faint-hearted.
guest post jm shorney